Alright guys (maybe only Yzanne...), some of you were wondering how my little sausage fractured toe looks like from the day of accident until now (about 10 days now...)
I have uploaded the pictures, but I warn you, if you belong to the faint hearted, weak hearted, faint when you see blood, don't scroll down! It's pretty gross. Well, it's a wound! :(
.
.
.
.
.
.
.
.
.
.
.
.
.
.
.
.
.
.
.
.
.
.
.
.
.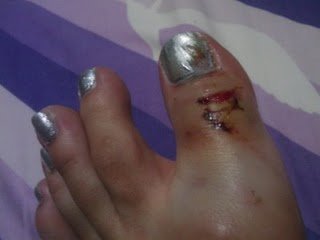 This is DAY 1 - fresh from the accident. You can see the yellow stain from the antiseptic cream Jiahui dabbed on. And how the hit ruined my pedicure. Haha. So there's basically 2 cuts on it. The horizontal one is pretty much the one that is causing the pain sometimes because it's on the joint, and making bending the toe a really painful thing to do. :(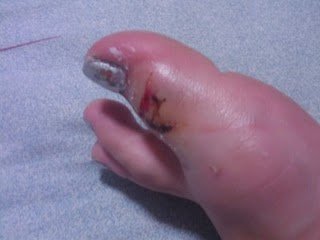 This is the side view. Look at how swollen it is. It's taiwan sausage! Now I got phobia of sausages...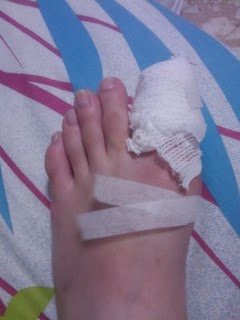 To prevent germs from entering the flesh wound, and people kicking me, I had to bandage the toe up each time I went out from home.
Faji was telling me one day he will bandage his toe like mine and says a durian fell on it. -_-
This is about day 5-6. The flesh wound healed pretty much. No more bleeding, the swell came back down a little, but I still have to hobble around, not bearing weight on it. :/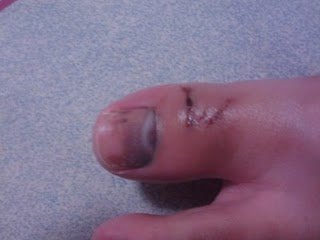 There's a huge chunk of blood clot under my nail, and my brother suspect it will cause my toenail to drop out soon. :(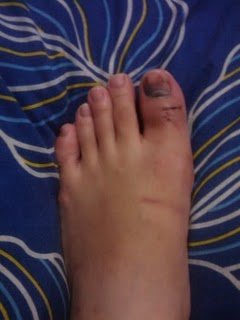 And this is day 10! If you can see, my whole feet is still much in a 'swell', because as compared to my right leg, I can see all the veins, but on this, I couldn't see at all. And a new bruise formed! See the line at the middle? I wore slippers out, and the marking from the band caused this bruise.
Sigh, that's how bad my leg is right now. But the review was quite okay. Doc says the swelling will take awhile to go away... And basically nothing much will be affected except my joint movement will not be the same as before. Perhaps less flexible.... :(
Oh well, Jingyi's boyfriend said that if you ever have a fracture, the best is to have it on your toe, because that part causes the less trouble and problems to your daily life.
If it's your arm/wrist/hand/elbow/fingers, you can't wear clothes properly, you can soap yourself in the bath properly, you can't write (if it's your writing hand), you can't carry things.
If it's your spine, WORST!!
If it's your leg/knee, you can't walk, you can't bend, you can't SHOP! Haha...
But your toe basically just affects your balance - that's why I hobble - but other than that, nothing much is affected.
Oh well.
But I'm very thankful to God that I can still drive!
I arranged for a lesson yesterday morning, and limped to the car in the morning and drove for 1.5hrs with no major problems except my toe was very strained after that because of the clutch movement.
But I am so thankful my basics are there even though I stopped for a month. And I could do all that was required. I am so pleased with myself yesterday! :)
Alright, tata!
Busy busy week coming up!!
Monday night: JAMT Meeting
Tuesday night: Ministry Leader's Meeting (Supper after that!)
Wednesday night: Driving
Thursday night: Driving
Friday night: Song of Solomon Part 4
<p>It WILL be fruitful!